The Sales Cycle Process, Using Lotus Notes
Prospect Tracker, a Lotus Notes sales force automation application, streamlines your organization's sales cycle process from start to finish. By leveraging the Lotus Notes / Domino infrastructure that is already in place, Prospect Tracker is a comprehensive sales cycle platform that is easily installed, deployed and adopted.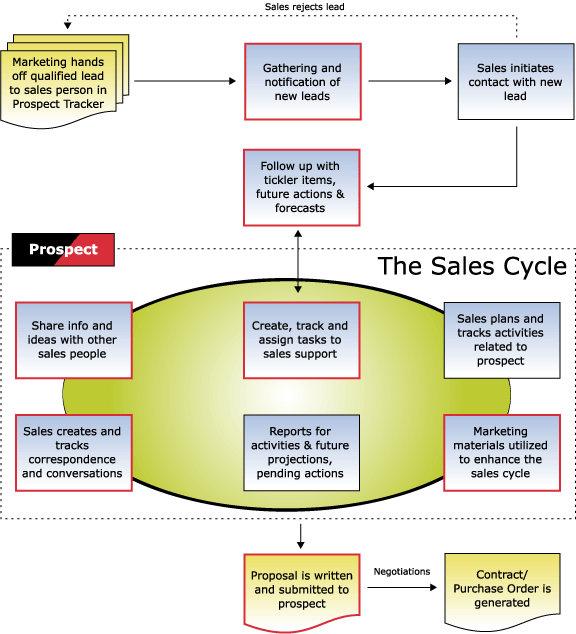 Starting with an initial RFI (Request for Information) from a prospect, whether by phone, email or one of the Web RFI forms provided by Tracker Suite, Prospect Tracker automatically notifies the salesperson of the new lead.
For the salesperson, Prospect Tracker simplifies tickler list management, allowing them to utilize tickler lists and add prospect activities to the Notes Calendar, with optional reminders. Sales people can also create personalized views of prospect activities, schedules and contact information.
Prospect Tracker automates the sales cycle process with email notifications of forecast changes, with a link to lead document, as well as automatic notifications of sales task assignments and their completion.
Prospect Tracker simplifies contact management, allowing organizations to create multiple, secure, searchable lead repositories, and move leads among them as needed. These databases. Managers can review all opportunities, while sales people can only touch leads assigned to them. Managers can also review sales projections and pipeline data, activity logs, work pending and Win - Loss reports.
Prospect Tracker also offers a more productive work environment. It provides a central location for marketing documents and templates for proposals, quotes and related correspondence, an online sales discussion forum for your sales force, as well as mass mailing and mail merge functionality based on selection criteria.